Sleep Research Program
The Stanford Technology Analytics and Genomics in Sleep (STAGES) Study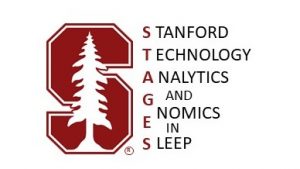 The STAGES study will collect data and biological samples from up to 30,000 patients at 11 sleep clinics in the US and Canada. The resulting resource will include de-identified clinical and demographic data, in lab overnight sleep study data, neuropsychological testing data, genetic data, actigraphy (wearable device) data over 2-4 weeks, and DNA, plasma, and serum samples.
The STAGES study will create a large scale cohort of up to 30,000 sleep patients to answer key questions related to sleep and sleep disorders, and to generate data and computational tools to advance the field of sleep medicine.  The project will result in a unique reference database for the scientific community, including all clinical and genetic data collected.  Patient DNA, plasma, and serum samples will be made available through an NIH-funded national sample repository.  The study will also develop and make freely available software to streamline the analysis of data from overnight sleep studies (PSG data).  The software will be validated in smaller, existing cohorts, and used in conjunction with a genome wide association study of the 30,000 patients to discover genetic variants that are related to sleep and sleep disorders.  The ultimate goal of this study is to improve the diagnosis and treatment of sleep disorders, by fundamentally deepening our understanding of sleep.
Exceptional opportunities to address unmet needs
We are currently exploring opportunities to fund potentially game-changing research and initiatives to create scientific resources with the aim of clearing research bottlenecks, filling research infrastructure gaps, and/or addressing an unmet need. We do not accept unsolicited applications for such projects.  If you have an idea for a project with high potential impact and importance to sleep research, please contact our Director of Medical and Scientific Research for an initial discussion.